Our Program
We offer 12 years of breeding experience and pride ourselves in producing the healthiest, socially adjusted, most beautiful pups. Our parents are health tested and we offer a 2 year health guarantee on all our pups and a lifetime of support within our very active Southern Skies community which includes Dr. Ana Adams, a renowned reproductive vet who owns one of our pups to breed herself. Our pups are highly socialized and adjusted- trusting humans from day 1. They are born here in our living room and handled daily by us, our 5 children and 3 dogs.
Early neurological stimulation (paws, ears, mouth and tail massaged daily and pup put on back)
Scent introduction starting on day 3
Sound desensitization and encouragement (exposed to recorded sounds of thunderstorms, fireworks, door bells, dumptrucks ect and rewarded for calm behavior)
Litter box training (they transition easily outside)
Beginning of basic commands and crate training
Handled by children, adults and other dogs everyday. Like, a lot.
Been in a car, exposed to grooming clippers, blow dryers, big dogs, other kids…all the things. This MATTERS.
Our moms are only bred 3x, less if we feel it's in her best interest. Fortunately, all our mamas have loved being mamas!!! They love getting chicken wings, goats milk, "Milk Cookies" and belly rubs! Tessa misses being a mama so much, she wouldn't stop nursing her grand babies and completely relactated! Tessa was spayed by age 4 and loves "mothering" her grand babes. All pet homes are sold on a strict spay and neuter agreement, as well as a rehome agreement. If any family, at any time, is unable to keep their pup, we require the pup comes home to US for placement.
Pricing / Apply Here
Our pups are $3500 with a $500 deposit to secure your spot and the remaining $3000 due at pick up.
We know that the pricing can vary for Goldendoodle puppies. We highly encourage doing your research and choosing a puppy that is clear of genetic diseases, bred by a knowledgeable breeder that knows genetics, and stands behind their puppies. Many breeders do not know that a dog can carry a disease or trait without displaying any symptoms or evidence. If bred to another carrier, the entire litter can be effected. Please do your research before making a 15 year commitment.
Why invest in a SSD pup?
We offer a 2 year health guarantee on all our pups, and we do extensive health testing on our parents to ensure healthy pups and stand behind this- 100%.
You will not find a more socialized or trainable pup. We work hard to make sure your pup has:
Been exposed to early neurotically stimulation every day beginning on day 3 of life.
Been exposed to various scents
Been exposed to various sounds including fireworks, dumptrucks, vacuums, door bells
Been handled by children, adults and dogs… like a lot….
Been in a car, exposed to grooming clippers, blow dryers, big dogs, other kids…all the things. This MATTERS
You will be part of a community of contribution. Any SSD pup fam will tell you we talk often, we want to be part of your pups life, enjoy birthday celebrations with the whole litter, and offer a lifetime of support!
The first step to adopting a Southern Skies Doodles pup is to complete our Matchmaking Questionnaire, this helps us gather all the information necessary to assess what is most important to your family. To some families, color and gender can take top priority; while other families have medical needs topping their list such as allergies or service/therapy dog needs. We assist with matching each litter accordingly- we do extensive temperament testing and know these puppies extremely well based on the amount of time we spend with them. You always have the option to move your deposit to a future litter should we not have the color/gender pup you desire, and this possibility will be discussed beforehand. Amanda is always transparent with each litters waitlist. Availability, possibilities and previous reservations of each litter will be discussed individually with each family. Apply here!!! The more info, the better!!
Daisy Grace x Lux
Due end of January 2023
Go home date end of March 2023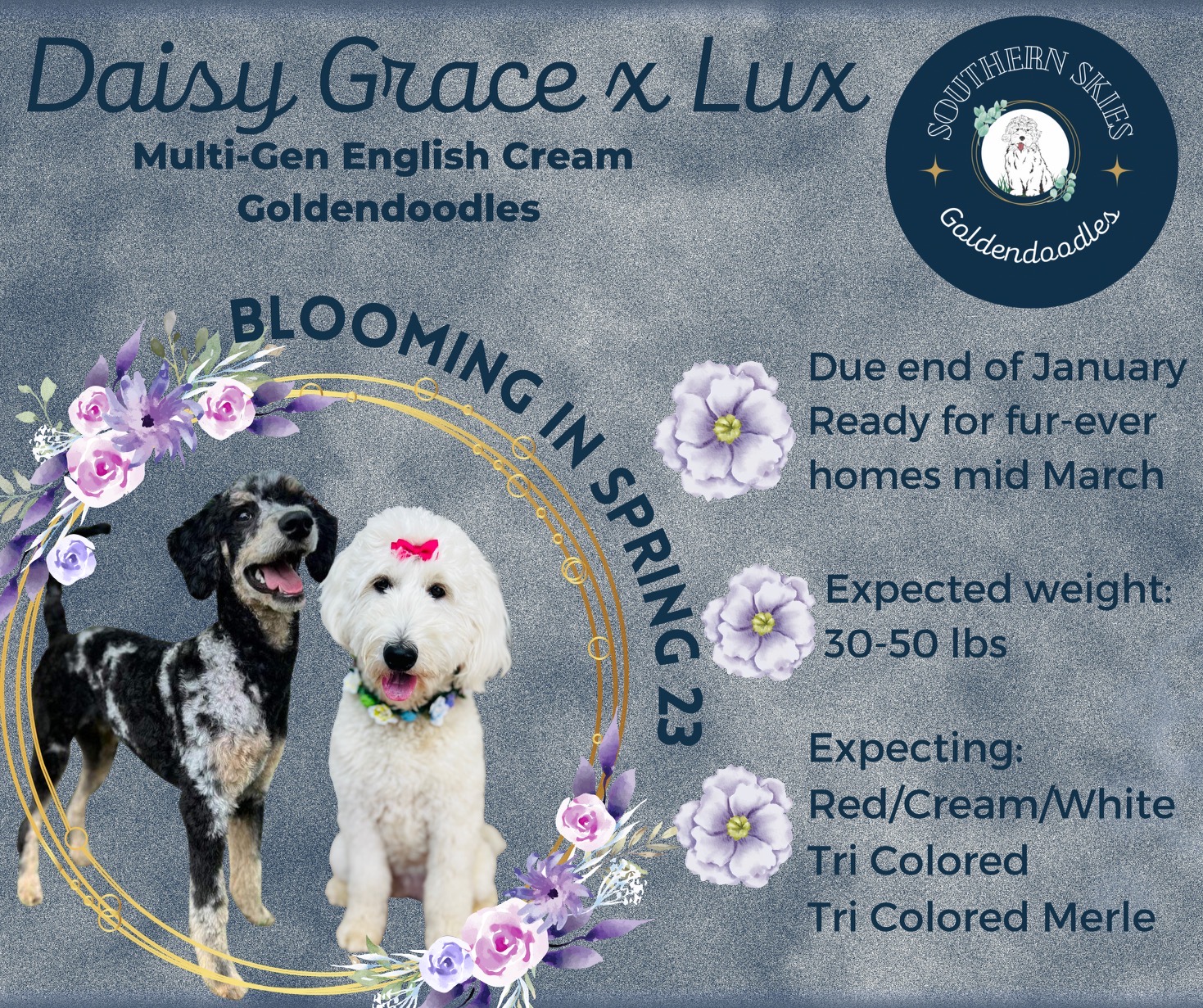 Sailor Rose x stud TBD
Spring 2023
Millie Mae x stud TBD
Spring/Summer 2023
Layla Belle x Stud TBD
Summer/Fall 2023
Maybelle Blue x Stud TBD
Winter 2023/Spring 2024